Say 'insider trading,' and most people will immediately think of shady market moves and dishonest salesmen, or, perhaps, Martha Stewart, who was famously convicted of illegal insider trading after getting a stock tip on a biopharma company.
But there is plenty of insider trading that can be conducted based on information in the public realm, even if it is generally known mainly by corporate officers or company directors. In that case, as long as the insiders publish their trades in timely fashion, in accordance with SEC rules, the insider trades are perfectly legal.
The SEC rules don't make the insiders' knowledge more readily available, but they do make the insiders' trades easy to follow. And following corporate officers, to see what trades they make and when, can make a viable strategy for retail investors.
Bearing this in mind, we pinpointed three stocks that are showing recent – and informative – insider buys. If that's not enough, all three stocks have a 'Perfect 10' from the Investing Insights.
The platform gives every stock a single-digit score, based on a summing up from 6 separate factors. The factors used are known to correlate with future overperformance; when they align together it's a strong indication for buyers to consider. Let's take a closer look.
Fiserv, Inc. (FISV)
We will start with Fiserv (NASDAQ:FISV), a financial tech company providing services to banks, credit unions, securities brokers, finance companies, and retailers. The company's products include payment services, account and billing solutions, customer management and online banking, risk compliance tools, and data analytics. In short, Fiserv is a full-service fintech, with customers in a wide range of sectors, including banks, government, healthcare, insurance, telecom, and utilities.
After seeing revenues slide in 1H20, Fiserv bounced back in the second half. The top line came in at $3.79 billion for Q3 and $3.83 billion for Q4; full-year revenues for 2020 reached $13.9 billion. While these were considered solid numbers, and beat expectations, the coronavirus impact was felt in year-over-year declines. Earnings, however, fared better. Fiserv registered a profit of $4.42 per share in 2020, for a 12% increase over the prior year.
On the insider front, the 'informative buy' here was made by Denis O'Leary, Director and Chairman of the Board at Fiserv. O'Leary spent $1.01 million on 9,100 shares of FISV.
Turning to the analyst community, Mizuho's Dan Dolev believes the company has a lot going for it and a bright future.
"Following marked organic outperformance vs. peers in 2020, we view FISV on track to impress again in 2021, with strong growth across the board… Investors often think of FISV as a legacy operator with fewer analytic capabilities than next-gen firms. This is not true, in our view… FISV deploys advanced analytics to measure every client interaction, investing in automation to improve engagement. While 'the journey never ends,' FISV is already seeing strong success in these efforts, seeing just low-single-digit senior level attrition," Dolev commented.
In line with his optimistic approach, Dolev rates FISV a Buy, and his $160 price target implies a 38% upside for the year ahead.
Overall, there are no fewer than 19 reviews on file for Fiserv, and they break down 17 to 2 in favor of Buys versus Holds. This indicates a broad view on Wall Street that the stock is a buying proposition, and makes the consensus rating a Strong Buy. Shares are priced at $115.80, and their $134 average price target suggests room for ~16% growth on the one-year time horizon. (See FISV stock analysis)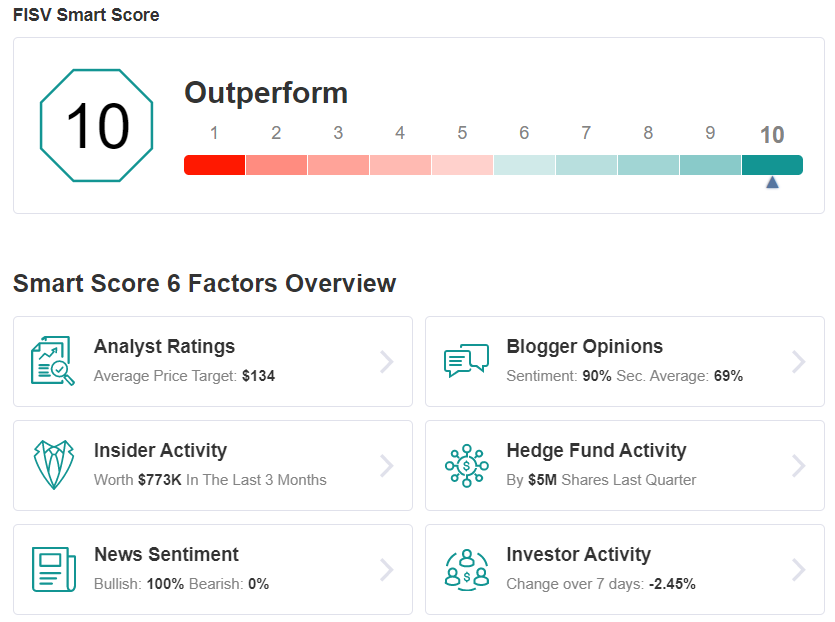 FISV Smart Score
Dominion Energy, Inc. (D)
Next up is a power utility company. Richmond, Virginia-based Dominion Energy (NYSE:D) has its hands in the electricity and natural gas sectors, with electric utility customers in Virginia and both Carolinas, and natural gas customers in West Virginia, Ohio, Pennsylvania, the Carolinas, and Georgia, along with parts of Utah out west.
The past year has not been kind to Dominion, and EPS is down from 2019. In the recently reported Q4, the company reported GAAP earnings of 82 cents per share, down a significant 32% from the $1.21 reported in 4Q19. Full year earnings showed a worse picture, with a 57-cent net loss per share compared the $1.62 EPS profit in 2019.
While 2020 showed losses for Dominion, the company did not attribute those losses to the corona crisis. Rather, the company noted several business factors that depressed earnings: charges due to planned retirement of electricity generation plants in Virginia; cancellation of the Atlantic Coast Pipeline project; and lost operations due to the sale of the company's Gas Transmission and Storage segment. These are all one-time charges, and in some respects offer the long-term benefit of streamlining business. Dominion guided 2021 full-year earnings to the range of $3.70 to $4.00 per share.
Despite the mixed results of 2020, Dominion has seen some recent insider purchases that are pushing the insider sentiment needle into positive territory. President and CEO Robert Blue spent nearly $1 million on 14,442 shares of Dominion, while Board of Directors member Mark Kington made a smaller purchase of 2,000 shares, paying $138,578.
Dominion has scored fans within the analyst community as well. Analyst Jeremy Tonet, from JPMorgan (NYSE:JPM) JPM, covers Dominion Energy, and sees strength ahead for the company, in light of its ability to tack the political winds and shift to non-fossil fuel operations.
"With 52% of Dominion growth allocated to zero-carbon investments, D's leverage to 'green rate of change' leads most peer utilities and should drive a multiple re-rating over time. Importantly, the VA regulatory construct limits D's offshore wind project risk relative to other industry participants given cost prudency presumption," Tonet wrote.
To this end, Tonet rates D an Overweight (i.e. Buy) and puts an $87 price target on the stock, implying an upside of 15% for the coming year.
The 6 to 2 breakdown on recent stock reviews, in favor of Buy versus Hold, shows that Wall Street generally agrees with Tonet here, and makes the analyst consensus rating a Strong Buy. Shares in D are priced at $73.21, and their $81.50 average price target suggests an 11% upside from that level. (See Dominion stock analysis)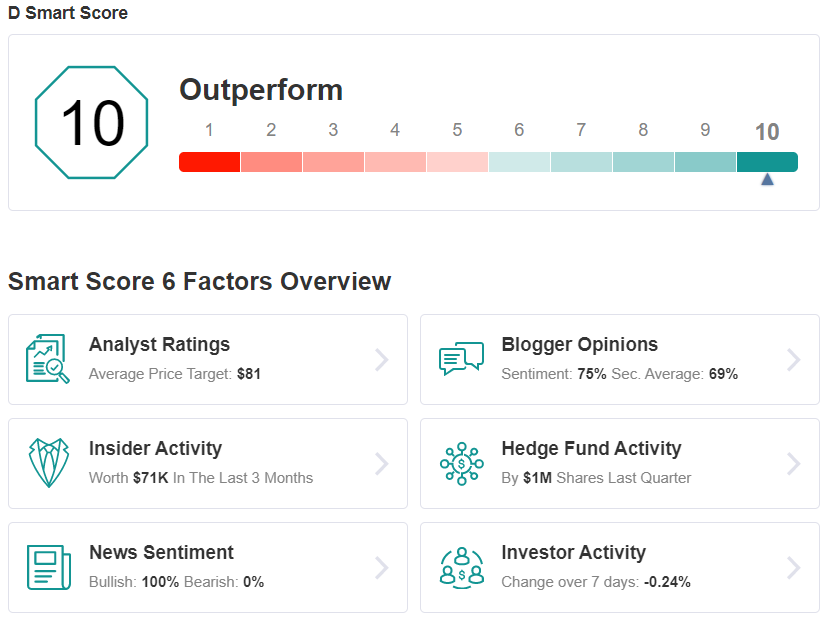 D Smart Score
Biohaven Pharmaceutical Holding (BHVN)
From energy we move to the pharmaceutical sector. Biohaven Pharmaceutical Holding (NYSE:BHVN) focuses on neurological and neuropsychiatric diseases, and has a pipeline with therapies in various stages of development, and one treatment which has already gained FDA approval.
Last year, Biohaven's NURTEC was given the go ahead for the acute treatment of migraine in adults and has been performing well since its launch. The treatment has another upcoming catalyst on the horizon. The FDA has accepted an sNDA (supplemental new drug application) for the prevention of migraine and a PDUFA date is expected in the second quarter.
Turning to the insider trades, on March 2, John Childs, one of the company's Directors, paid $851,370 for a bloc of 10,000 shares.
His display of confidence gets the backing of H.C. Wainwright's Douglas Tsao. The 5-star analyst anticipates the US approval of NURTEC in preventative migraine followed by an immediate launch. Tsao is also impressed by NURTEC's "continued linear growth."
"Despite being on the market for only about one year, NURTEC continues to take share from triptans and even mAbs used in preventative treatment, though the share is still relatively small, suggesting plenty of room for growth," Tsao said. "Importantly, neurologist and patient attitudes towards Nurtec are overwhelmingly positive, with 58% of patients satisfied compared to just 37% on Ubrelvy, again suggesting robust growth potential based on the drug's best-in-class attributes."
Accordingly, Tsao has a Buy rating on BHVN shares, to go alongside a $111 price target. This figure implies a 43% upside from current levels.
Biohaven also has plenty of support amongst Tsao's colleagues. The analyst consensus rates the stock a Strong Buy, based on 8 Buys and 1 Hold. At $103.13, the average price target implies gains of 33% over the next 12 months. (See BHVN stock analysis)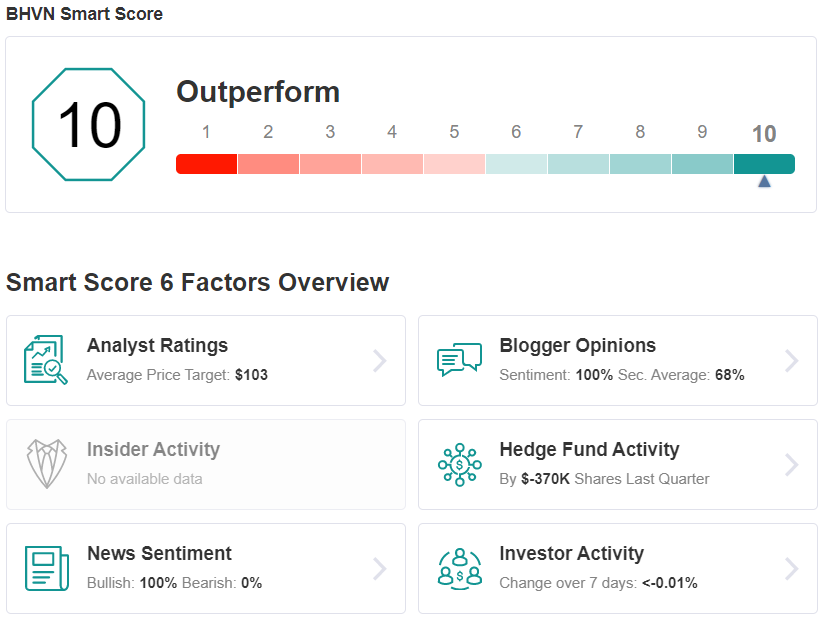 BHVN Smart Score
To find more ideas for stocks trading at attractive valuations, visit Investing Insights.