The seemingly endless flow of tech initial public offerings (IPOs) continues. Over the past few months we've been relatively skeptical about many of these offerings, including Lyft (NASDAQ:LYFT) and Uber (NYSE:UBER).
Can Slack, a San Francisco-based messaging app, rise above other much-heralded IPOs to become not only a unicorn company but something even rarer—an IPO worth investing in? Slack is planning to go public via a direct listing, but its first day of trade is unknown. However, based on previous IPOs, we expect it to start trading at the end of May, under the ticker SK. Its valuation when it IPOs is also unknown as we write this, but we might be able to find some clues from Slack's S-1; we'll return to the subject of its valuation later in this post.
Slack characterizes itself as an enterprise messaging application with a goal of facilitating communication within teams and throughout organizations. Originally it was created as an internal tool at Tiny Speck in 2013, the software company Slack's founder built previously. However, when it became evident that the product was a good fit for the enterprise market, Slack became the main product— and Tiny Speck was rebranded as Slack Technologies.
Slack's business model is based on monthly or annual subscription fees per user, with costs ranging between $6 and $15 a month per user, depending on features required and the resulting billing cycle. Slack offers a free version as well, with limited features. As is typical for many companies, the free version provides an introduction to the service's messaging tool, with the hope that organizations will decide to scale up and expand the options provided, thereby converting to paying customers after the free trial.
Slack's adaptability and ease of integration into any organization based on what the enterprise needs and wants is what separates it from competitors.
Revenue and Earnings
Here's the most obvious fact from Slack's S-1: the company isn't profitable. Over the past three years, it lost $140 million, $180 million, and $146 million, respectively. Still, as is true for many IPOs, profitability is less of a concern at the moment, as the company focuses on top line growth.
In addition, revenue is growing—from $105 million in 2016 to $220 million in 2017 to $400 million in 2018, representing growth of 110% from 2016 to 2017 and 82% from 2017 to 2018. During 2016, Slack lost $146 million on $105 million in revenue. Two years later, Slack is losing $140 million on $400 million in revenue so its prospects look better than they did two years ago, an encouraging sign.
Customer Breakdown
With approximately 600,000 organizations of various sizes using its messaging app, Slack has a total of over 10 million users. Unfortunately, currently, the vast majority—about 512,000—rely on the free version. This leaves 88,000 organizations as Slack's primary revenue source.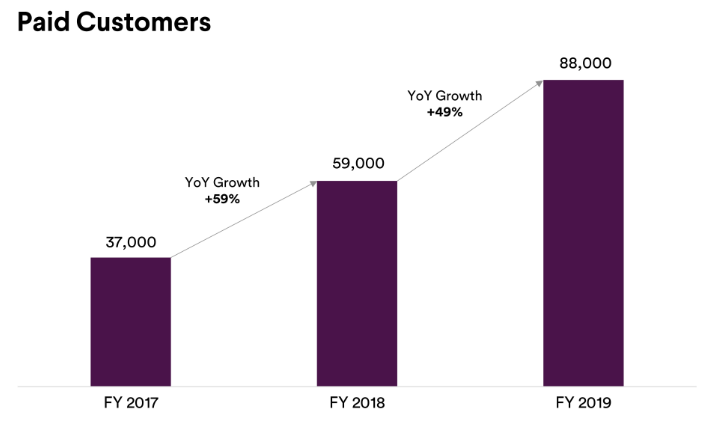 Slack Paid Customer Growth
Luckily for Slack, the number of paying customers has been impressive. That metric jumped 59%, from 37,000 to 59,000 in 2017, and 49% to 88,000 in 2018.
Of those 88,000 organizations, 575 pay over $100,000 in total for their subscriptions. These heavy hitters are crucial for Slack's growth. In 2018, 40% of Slack's revenue came from this subset of users.
Slack understands that growing this portion of their user base is key. The company is actively trying to provide functionality geared toward large organizations along with developing a direct sales force focused on this demographic. In 2017, only 298 organizations were paying over $100,000 a year. That's grown 93% to the current 575 organizations.
Messaging Moat?
Slack's mission right now is to become the go-to communications system for organizations, including by disrupting emails, which require individual inboxes that fragment information and limit transparency. As well, Slack's messaging system can relay all necessary information in a simple message to multiple recipients at the same time.
The stickiness of its platform, especially where network effects increase the value of the service as the number of users grows, gives Slack the initial infrastructure for a potential messaging moat.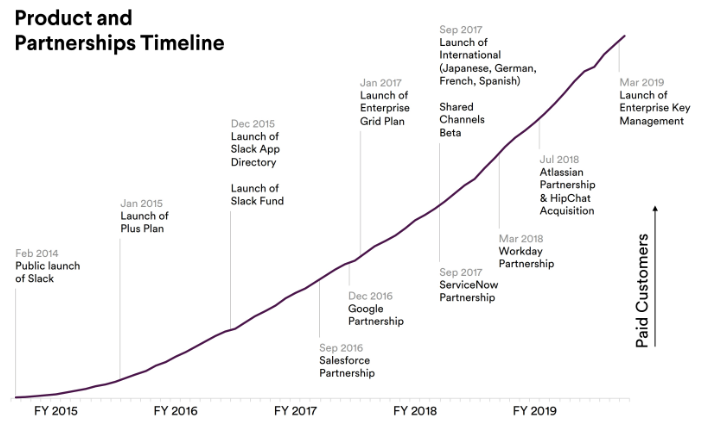 Slack Product and Partnerships Timeline
Additionally, Slack has done a stellar job increasing their 'protective barriers' by initiating partnerships and integrating support for third-party software and tools from such companies as Google (NASDAQ:GOOGL), Atlassian (NASDAQ:TEAM) and Salesforce (NYSE:CRM).
Indeed, Slack has reported that over the three months ended in January, third-party developers had created over 450,000 applications and custom integration options so users can tailor Slack to their own needs. In fact, the word 'integration' appears on average once per page in the first 100 pages of the company's S-1. Clearly, Slack sees that as a major selling point.
It's also one of Slack's most effective growth drivers. The company has created a sandbox that's generic enough to fit any communications use-case while allowing customers to incorporate their own specific products, creating a very sticky platform that users won't rush to leave for the next communications app inevitably released by competitors.
Conclusion
The exact valuation Slack is looking for is currently still a mystery. However, we do know that Slack raised $400 million in August, giving it a valuation of $7 billion at that time. Some analysts expect Slack to look for a valuation of up to $10 billion.
With its good growth prospects, we think Slack has a real chance at profitability as it becomes the go-to tool for internal business communication, even though it's still losing money. Based on what we know from its S-1, a valuation at $9 billion seems appropriate. However, according to a CNBC report, the price of Slack's shares in private markets currently puts its valuation at a sky-high $16.7 billion—which would mean Slack's value more than doubled in the past 8 months.
One final thing to keep in mind – Slack has opted for a direct listing, which means there won't be underwriters to mitigate volatility in the early days of trading. This isn't necessarily bad. Spotify (NYSE:SPOT) has done it already. Nevertheless, it's something to keep in mind in case you're thinking of trading the stock on IPO day.