Beyond Meat, which went public on May 2—and might just turn out to be the most dramatic initial public offering (IPO) of the year—was supposed to be a small, relatively quiet IPO, taking place in the shadow of debuts from bigger, higher-profile, more closely watched tech giants. But a potent mix of investor irrationality and FOMO made this stock's premiere on the NASDAQ perhaps the most unpredictable market event we've seen in a while, when shares at one point skyrocketed higher by 240% after the stock opened at $45.
Though Beyond Meat (NASDAQ:BYND) was set to IPO at $25, the stock opened at $45, jumped to $70 on the first day of trade and peaked at $85 mid-week, before falling to $62 on Friday. The stock is now hovering around the $66 mark.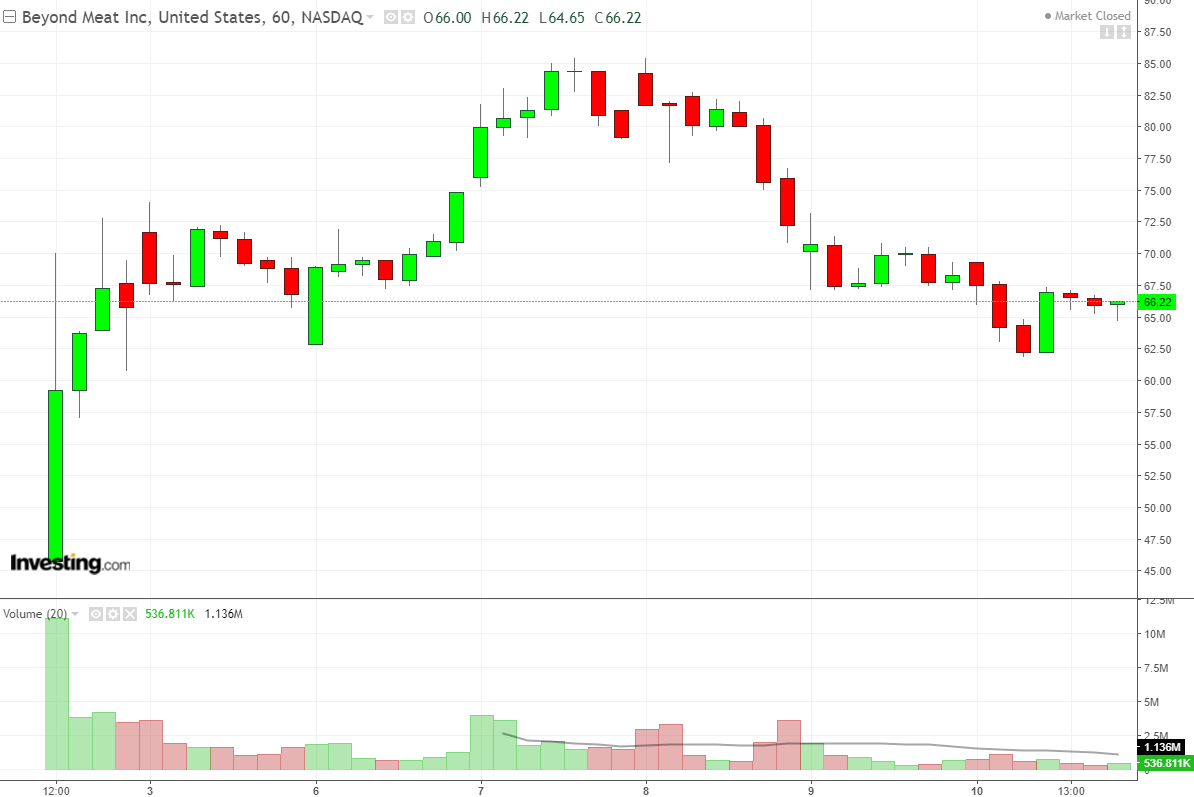 BYND 60 Minute Chart
Chart powered by TradingView
Ten days and lots of volatility later, the direction the stock will take next remains unclear. Its upward momentum appears to have collapsed, though shares are still trading 165% above its IPO price. Is it worth buying into thIs correction or is there more pain to come for investors?
While Beyond Meat has potential, it's current fundamentals, as laid out in its pre-IPO S-1 filing, make it seem that Beyond Meat is a 'feel good' stock, rather than a good investment.
Unique Plant-Based Meat Substitute?
Beyond Meat is a food manufacturer that's developed a line of plant-based meat substitutes. Vegetarian meat alternatives aren't new, but, Beyond Meat claims its products replicate the 'taste, texture, and sensory attributes' of actual meat. It has three product offerings: its flagship Beyond Burger, sausages and 'beef' crumbles.
The company's products are already widely distributed in the U.S. and Canada and are available at burger chains such as Carl's Jr. and TGI Friday. As well, they're available in 11,000 restaurants in total, and 11,000 grocery stores across the U.S.
Beyond Meat's S-1 filing emphasizes that it isn't targeting vegetarians or vegans, but rather meat eaters. Given that the global meat industry is estimated at $1.4 trillion, with $270 billion or 19% of it coming from U.S.-based carnivores, Beyond Meat's mission is significant. Still, there's substantial potential: research shows that a majority of people, including meat eaters, would be willing to give this type of product a try. However, competition for an individual's ideal protein source is growing.
Two-Fold Competition
Competition comes from two directions. First, Beyond Meat is competing with manufacturers of other plant-based meat substitutes, such as Impossible Foods, whose vegetarian burger will soon get an exposure boost when it becomes available across the U.S. at Burger King (NYSE:QSR). Other veggie burger competitors include Boca Foods (NASDAQ:KHC) and Tofurky, plus, of course, traditional meat industry stalwarts including Cargill, Hormel Foods (NYSE:HRL), Tyson Foods (NYSE:TSN) and others.
A second competitive front comes from lab-grown meat rather than plant-based substitutes. Startups have been competing in this arena over the past few years, trying to become the first to offer this type of product at prices similar to traditional meat, though none have succeeded so far. Israel-based Strauss Group (TA:STRS) as well as Tyson are trying to make inroads on this front.
It's difficult, of course, to predict human behavior both on the moral and culinary front, but it pays to note that clearly, the entire industry is undergoing a massive shift right now.
Revenue and Earnings
More significant, perhaps, Beyond Meat's numbers make the stock's current value proposition questionable. In 2018, Beyond Meat brought in $88 million in revenue, compared to $32 million in 2017, for a growth trajectory of 175% in revenue. Maybe more important, 2018 marked the first year during which Beyond Meat's revenue surpassed its cost of goods sold, meaning the company finally started to enjoy the benefits of economies of scales for its manufacturing operation.
Even after its public debut, the company remains in the red, with a loss of $29 million—one million dollars less than its 2017 losses. Revenue growth was offset by higher freight costs, a 111% increase in headcount and higher marketing expenses as the company continues to try to expand its reach.
Questionable Valuation
At $66 a share, Beyond Meat's market cap is closing in on $4 billion. This means the company is currently valued at a little under 50 times annual sales. We'll say that again: not 50 times earnings; 50 times revenue. That's an extremely lofty valuation for a company that hasn't yet brought in a single dollar of profit.
Take Tyson Foods, an established food manufacturer, as a counter example. The Arkansas-based food conglomerate has an annual revenue of $40 billion, almost $2 billion in net income, and yet it's worth 'only' $28 billion dollars, 0.7 times its annual sales. We're not saying that Tyson Foods has better or even equal growth prospects to Beyond Meat, but the gap between the two valuations is simply ludicrous. Consider this as well: Beyond Meat, which creates its product from pea protein, is now worth more than all the peas in America.
When it comes to business, growth prospects trump everything else. Though Beyond Meat's revenue grew 175% last year, on the back of new product and new distribution channels, after its current exposure boom, will the company be able to sustain that torrid pace?
In order to cross $1 billion in sales and justify its multi-billion valuation as a sub-$100 million in revenue business, Beyond Meat will need to double its revenue every year for the next four years. That may happen, of course, but we're in the business of considering the most likely scenario. And even with the early excitement surrounding the company's first days of trade, in the long term, given the competition, the state of the industry and its valuation, Beyond Meat's stock is simply too rich for our taste.