Three of the big cannabis companies—Aurora Cannabis, Tilray and Cronos Group—released their latest earnings in the last two weeks, giving investors and observers a little more insight into the expanding new markets that have not quite come into focus yet. But despite the lack of clarity on how the market will react in the ramp up to the second phase of legalization of marijuana that will see edibles and infused products hit the retail market in Canada later this year, the reports provided a fresh opportunity to compare and contrast these players based on a number of top metrics.
Let's look at how these companies line up.
1. Aurora Cannabis (TO:ACB) is the biggest of these three. With a market cap of US$8.83 billion (C$11.88 billion), it is one of the leading medical marijuana producers in the world. Overall, the Canadian company, based in Edmonton, reported a lower net loss and higher revenues for the quarter that ended March 31.
The net loss for the quarter came in at C$158 million (US$117.63), due mainly to continued expansion of its cultivation facilities. This figure is 33% lower than the net loss of $C237 million (US$177.44) reported in the previous quarter.
Its latest quarterly revenues increase to C$65.1 million (US$48.41), up 20% from C$54.18 million (US$40.34) the previous quarter. Contributing to that growth was a 37% increase in recreational sales, an 8% rise in Canadian medical sales and a 40% uptick in international medical sales.
Since reporting, its stock price has gained steadily, from US$8.02 (C$10.83) to US$8.99 (C$12.12), and closing last week at US$8.68 (C$11.71).
2. Over at Tilray (NASDAQ:TLRY), the latest reporting on May 14 was a bit of a mixed bag. Net loss for the quarter was pegged at US$30.3 million, up substantially compared with US$5.18 million in the same quarter last year. Meanwhile, revenues for the period catapulted 195.1% compared with the same period in 2018. The engines that fueled that leap were increased marijuana sales and hemp food sales courtesy of its recent acquisition of retail hemp producer Manitoba Harvest.
Tilray president and CEO Brendan Kennedy said:
"We have made significant progress integrating our recent acquisitions of Manitoba Harvest and Natura Naturals, accelerating our entry into the United States hemp and CBD markets, and increasing our production and manufacturing capacity in North America and Europe."
But the revenue jump was not enough to move investors. Its stock price, which had been about US$47, initially jumped following the release of the numbers, hitting US$48.84, before dropping to US$46.22. It closed last week at US$45.66 confirming that much of the positive results had already been priced in.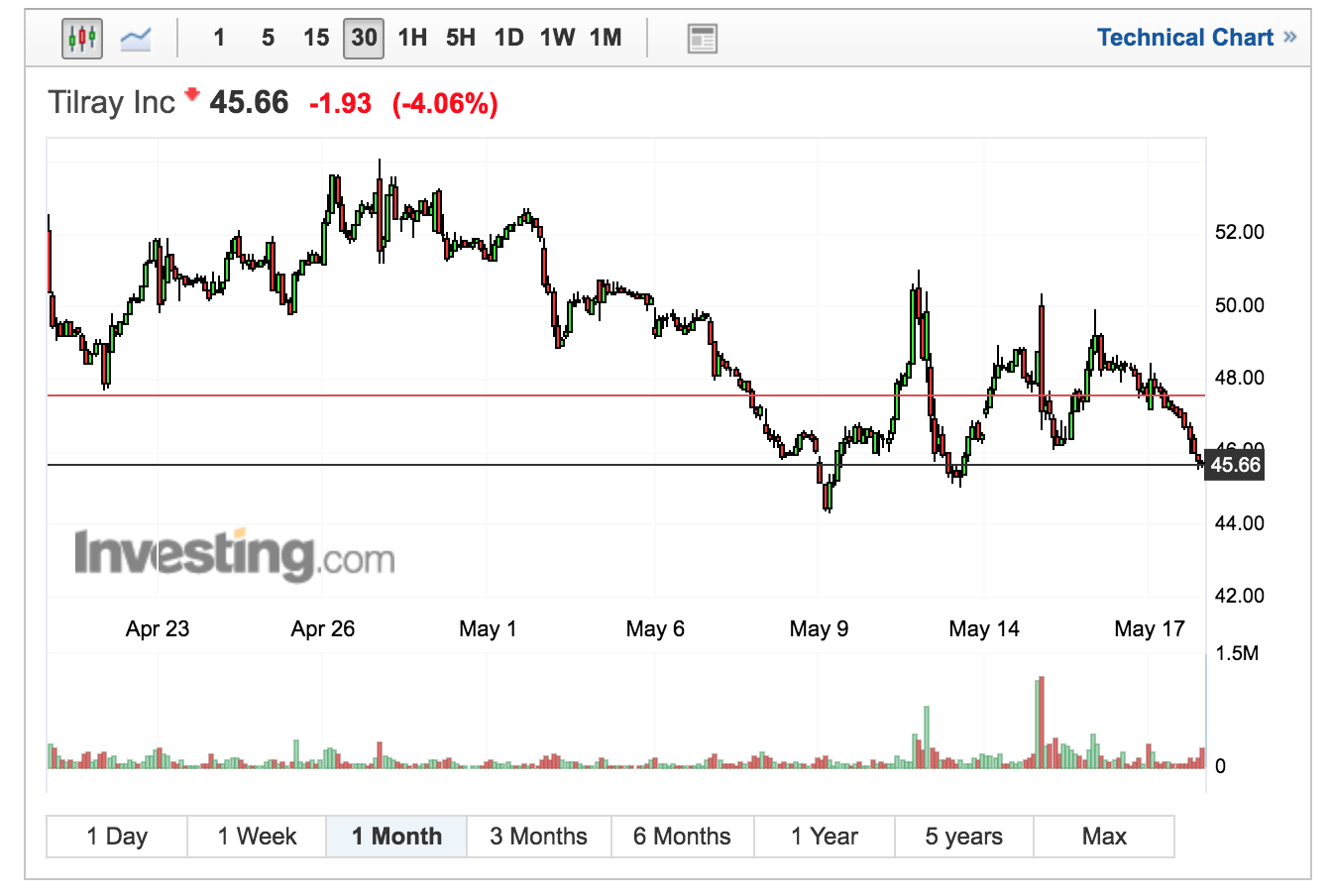 Monthly Tilray
All charts powered by TradingView
But observers should keep a keen eye on retail hemp sales, which could serve as an early indication of the popularity of the edible products to come.
3. A week earlier, Cronos Group (NASDAQ:CRON), a Toronto-based company that is about the same size as Tilray with a market cap of US$4.96 billion (C$6.68 billion), released its first-quarter earnings, only to see its stock take a hit. Shares lost a little more than 8.8% during the day on the news after announcing it anticipates adjusted earnings to drop over the remainder of 2019.
But the stock bounced back, almost returning share prices to about the very spot they were earlier in the week.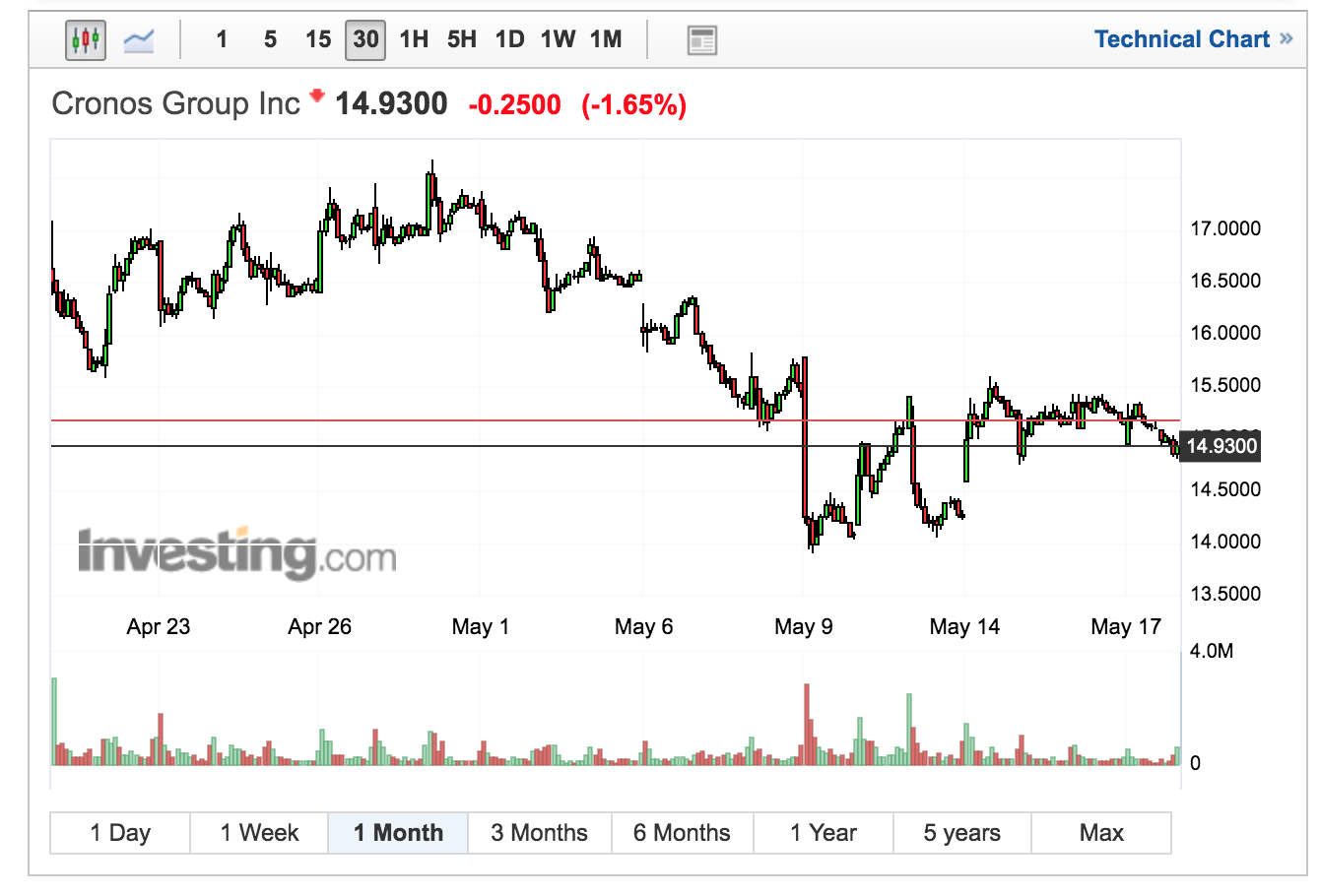 Cronos Monthly Chart
Cronos In Focus

Cronos reported C$6.5 million (US$4.8) in revenue for the three-month period ending March 31. Although this figure marked a 15% gain compared with the previous quarter, it was below analyst estimates. The increase in revenue was driven mainly by an increase in CBD oil sales, the company said in a statement.
The revenue from CBD oil, valued for its therapeutic properties, represented 23% of net product revenue in the first quarter of 2019. In the first quarter of 2018, it was only 9% of revenue.
Again, the growing popularity of pharmaceutical and therapeutic applications will be a key item to watch.
Also in the last quarter, Cronos completed its $2.4-billion deal with Altria Group (NYSE:MO), the U.S.-based cigarette maker. Building on this partnership, the company earlier this month opened Cronos Device Labs, a research facility based in Israel and designed to develop vaporizer products designed specifically for cannabinoid applications. The firm's chairman, president and CEO Mike Gorenstein said:
"Cronos Device Labs will play an important role in positioning the company for long-term success by enabling us to build innovative vaporizer products that resonate with our customers and generate shareholder value."
It will be interesting to watch where the stock goes from here before the vaporizers hit the market.